Show notes
Today's Post - https://bahnsen.co/3VGvMUb
A huge theme right now in market punditry is that small caps are under-performing big caps, and that this speaks more to macroeconomic reality than the fact that big-cap companies have mostly hung in there. As the reasoning goes, small-cap companies are more dependent on banks and financing and credit conditions and so struggle more than large-cap names in periods of fed tightening or bank distress. Of course, the corollary to this is that small caps underperforming going into a recession has always led to small caps out-performing coming out of a recession, but all of this is much more useful in hindsight than foresight.
But I would say that I think small caps lagging large caps in periods like this is less related to credit conditions and more related to economic growth. Small cap names in the public sector are more tethered to revenue growth than big cap names, as big cap names have far more control over margins than small cap names do. Revenue is the most tethered to economic growth, and small cap names are more tethered to revenue. If we could look at an index of non-public small businesses, I would imagine it would reflect far more reliance on credit conditions (and of course, the economic cycle), but alas, such an index of non-public small businesses does not exist. But within the universe of publicly traded small cap names, my operating thesis is that revenue growth follows economic growth and big-cap names have more levers at their disposal to squeeze earnings out of slowing revenues than small cap names do.
I have no idea when the cycle bottoms and when it turns, but I do know small-cap's valuation relative to big-cap is looking quite interesting right about now. Take it for what it is worth.
Links mentioned in this episode: TheDCToday.com DividendCafe.com TheBahnsenGroup.com
Hosts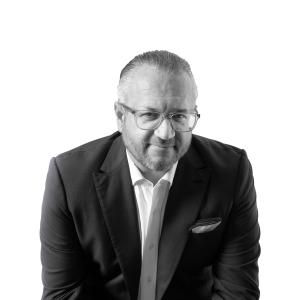 David Bahnsen
David is the Founder, Managing Partner, and the Chief Investment Officer of The Bahnsen Group.
View episodes
Guests