Show notes
Today's Post - https://bahnsen.co/3C3vY77
As expected, the House passed the McCarthy-Biden debt ceiling bill, and the Senate will do their part by this weekend. The bill passed by a vote of 314-117, quite the nail-biter, with 165 Democrats voting yes and 149 Republicans voting yes.
This allows us to now change our focus to the next end-of-the-world moment. Do not fear – it will not take long – a new culprit for the cause of Armageddon will arrive shortly. And the media will be ready to tell you what it is.
Futures are now at a 78% chance of a Fed Rate pause at the June 14 meeting (it was less than 40% just two days ago). Several Fed officials have come out jawboning the idea of a pause. I think there is almost a 0% chance that these Fed officials making public comments to this effect do not mirror the view of Chairman Powell himself.
The world's largest chipmaker most connected to Artificial Intelligence is trading at a mere 197x earnings now, which is just the bargain basement level of 23x gross sales. It is sort of surreal to see this kind of excess and froth just a year after all these other shiny objects got taken to the woodshed. Human nature is immutable. C3.ai, a leading artificial intelligence software firm, is down -30% in the last 24 hours as numbers came in vastly below expectations. I bring this up because they are all over the news since, well, they lose $260 million per year on gross sales of $266 million per year. That negative -98% margin being attached to a $6 billion market cap is, shall we say, a sign of the times.
Links mentioned in this episode: TheDCToday.com DividendCafe.com TheBahnsenGroup.com
Hosts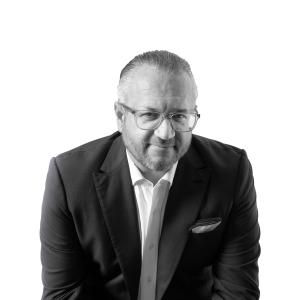 David Bahnsen
David is the Founder, Managing Partner, and the Chief Investment Officer of The Bahnsen Group.
View episodes
Guests